Your Beard Needs This!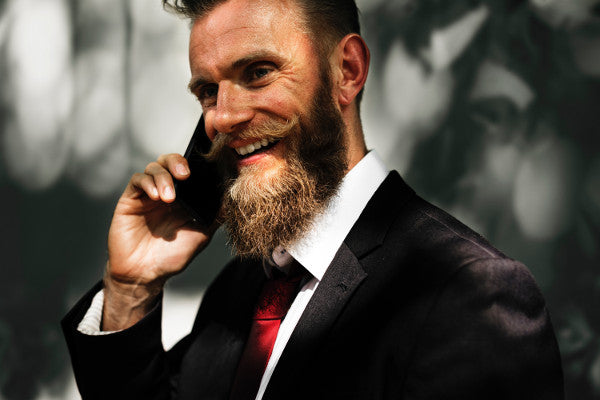 All right, guys, listen up!
How do you care for your beard? Do random strangers tell you, 'Excellent beard, dude!' in a reverent, awed tone? If they do (and if you live somewhere where strangers do that), you're doing something right.
Chances are, though, like most men, you probably follow a lax laisse-faire policy. If your beard is giving you trouble - it's scraggly, it's patchy, it refuses to behave, hairs stick out every which way, and everyone complains that it's prickly – do not despair. There is a fix for that. The twenty-first century has a concept of 'Daily Beard Care.' If you've never heard of it, stay with me here. Good habits take a while to cultivate, but the end result will make that beard the luxuriant pride and joy it should be. 'Awesome beard!' is in your future.
The Ultimate Beard Grooming Kit
There are lots of excellent beard grooming products out there, but a kit, such as HiLée Cool Beardy Grooming Kit, is the ideal set for anyone just starting out. This beard grooming kit contains all the basics for daily beard maintenance, and the products are scent-coordinated to not clash when combined. In addition, all HiLée products are based on natural and organic ingredients and plant extracts, and are non-comedogenic, so hey, they're good for you and the environment.
Step 1: Beard Shampoo
Step the first: your beard needs to be washed regularly. Chances are, you probably know this and, chances are, you give it a once-over with regular shampoo. Don't do that. Beard hair is coarser and thicker than head hair, and regular shampoo will not do much for the beard except dry it out.
HiLée Ultra-Soft Beard Shampoo, made with organic and natural ingredients, is specifically designed to clean facial hair, while keeping the underlying skin well-moisturized. It helps reduce skin irritation, soothing skin, softening the bristles, and adding shine. It's pH-neutral, so it can be used daily, and it smells nice. As an extra bonus, it's well-packaged, so it's TSA-friendly and travels well, so you don't have to be apart even while on vacation.
Step 2: Beard Oil
Beard washed and dried, it's time for some maintenance. HiLée's 'Noise' organic Beard Oil is a multi-functional beard moisturiser. What does beard oil do? It contains essential fatty acids and vitamins that nourish the bristles, making them softer and more pliant, and the unruly hairs easier to smooth down. The ingredients in the oil stimulate hair follicles, so that new hair grows healthy and shiny. My super-scientific poll of bearded friends revealed that not everyone gets itchy under the beard, but if you're one of the sufferers, beard oil will also soothe that itch.
Step 3: Beard Balm
Now, for the finishing touches. Beard balm is to beard what hair gel is to head hair, except easier to apply, non-sticky, and actively nourishing. The ingredients in HiLée 'Hunt' Beard Balm – natural beeswax, jojoba oil, myrtle oil, wheat germ oil, urtica oil and many others – allow to easily style the beard, lightly fixing it in place, and smoothing down stray hairs. The balm helps soften hair, heals split ends, and acts as a nourishing foundation for new hair growth.
Step 4: Beard Comb
A beard comb plays a significant role in beard growth, and is especially important for men with big beards. Intended specifically for beard hair, HiLée's Beard Comb is made from the tree of the genus Guaiacum, known for its very hard and very dense wood, and is a great asset in daily facial hair care.
Excellent beard, man!
The end result is a well-groomed beard that looks smooth and lush. It takes a little time, but nobody rolls out of bed ready for the close-up. And the effort is worth it.
There is a good reason why this kit is such a best seller – it provides everything you need for your beard. For only $65.00 (a 32% savings) at the moment – it's the perfect beard grooming kit for the stylish man.

It's also the ultimate gift for your friends and family. Say goodbye to scraggly, patchy, prickly beard!
You can buy Cool Beardy Grooming Kit right now for only $65.00. It usually retails at $95.00 so take advantage of this offer while it lasts.
Shop for the Cool Beardy Grooming Kit Here: