Christmas celebrations around the world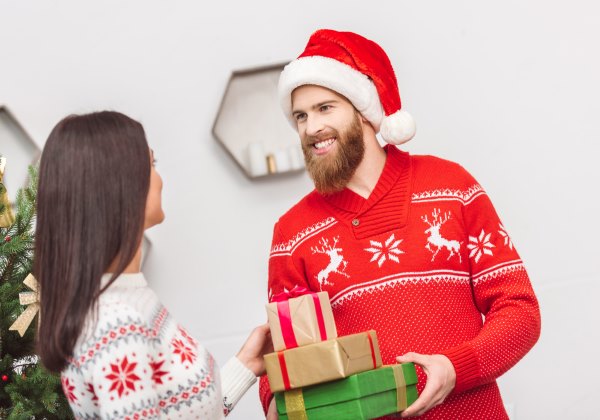 Albania
Because of its history, first under the Ottoman Empire, then followed by the Communist Rule, Albania does not really celebrate Christmas the way the Western world does. While many public places are decorated with lights and there are pictures of Santa Claus, Christmas just isn't that big a deal. Instead, it is merged with the traditional celebration of mid-winter, known as Krishtlindjen (or Kershendella, Kullanat, and Kolendre). 'Krishlindjen' means 'Christ's birth,' and the day is celebrated with a large ring-shaped cake.
Andorra
It takes a long time to establish a true holiday spirit; that is why in Andorra, Christmas season begins in the early days of December. On December 1st or 2nd, a Christmas Market opens in Sant Julià de Lòria; people decorate streets and houses, and start thinking of gifts and holiday entertainment.
December 13th is the Day of Santa Lucia (also known as the Feast of Saint Lucy), celebrated in the Catholic and Lutheran faith during Advent. Saint Lucy was a 3rd-century martyr, who, according to legend, brought food and water to Christians hiding from persecution by the Roman Empire. At one point, before the calendar reforms, her feast coincided with the Winter Solstice, the longest night of the year, and so her feast became a festival of lights, and a traditional celebration involves an evening procession with lit candles.
The main celebration in Andorra occurs on December 24th, when Santa Claus comes into town, handing out turrons (sweets) to kids, and commencing all sorts of celebrations. La missa del gall – midnight mass – concludes with everyone congregating outside to drink hot wine and hot chocolate, and eat cake.
Argentina
Christmas in Argentina is an intimate family holiday. All family members congregate at someone's house, sitting down at 10 o'clock for dinner and good conversation. At midnight, cider and sparkling wine are opened, and young people light fireworks or shoot at balloons with a rifle. Some go to church to attend the midnight mass.
Christmas Eve is usually a half-day for employees, and on Christmas Day, everything is closed. Dishes served at Christmas dinner include ensalada rusa (which is akin to the Russian Olivier salad), ensalada de lechuga y tomate (lettuce with tomatoes), carne asada (sliced grilled beef), and marinated chicken.
Australia:
Christmas in Australia comes in the middle of a hot summer, prompting Aussies to dream about a cool, white Christmas. Until recently, pretty snowy motifs were depicted on Australian Christmas cards, and kids at school learnt songs about the cold, snowmen, and snowflakes.
A cheery Santa Claus in heavy woolen winter gear does not fit in well with the heat of the Australian summer, and the resourceful Australians came up with their own summer version of Christmas celebrations. These days, Australian Christmas cards do not depict a Christmas tree with snowflakes, but show images of Australian wildlife and landscapes.
At Christmas, children cheerfully flock to the beach to try out new surfboards they received for Christmas, and build castles out of sand, not snow. One of the more popular Christmas presents is a beach towel.
The official start of the Christmas season begins in early November with the Adelaide Christmas Pageant, the largest parade in the world that started in 1933 and attracts crowds of over 400,000 people. Akin to the Rio Carnival, the parade transects the streets of the Central Business District, a fantastic procession of floats accompanied by a marching band, several hundred clowns, pirates, tin soldiers, and many other fictional characters. The parade terminates at the David Jones department store where, accompanied by the orchestra, Santa descents into his Magic Cave, open to young visitors for photo ops.
In Melbourne, the grand celebration happens on Christmas Eve. Carols by Candlelight, a tradition established in 1938 that had since spread all over the world, sees large crowds of people gathering together to sing carols in a large-scale concert event.
Austria
Christmas season in Austria starts a month before actual Christmas, with Advent, which is a time of expectant waiting and preparation for Christmas. The houses are decorated with special wreaths that contain four candles. On the first Sunday of Advent, one candle is lit, with an additional one lit each subsequent week, until all four are alight on the last Sunday before Christmas. Frequently, there is a fifth candle, placed in the center of the Advent wreath, which is lit at Christmas Eve or Christmas Day.
Brazil
Like Australia, being in the Southern hemisphere means that Brazil celebrates its Christmas in summer. As a country that likes to party, Brazil goes all out for Christmas: streets and houses are decorated with strings of lights and flower wreaths, and ladies rush out to purchase new outfits for the holiday dinner.
In Rio, a metallic Christmas tree (the largest in the world) floats in the middle of the scenic Rodrigo de Freitas Lake. At night, it is illuminated by more than three million light bulbs that display different holiday scenes; in fact, it is so bright, it can be seen from space! Christmas dinner always includes tropical fruit, seafood, cassava dishes, and, of course, feijoada. A masterpiece of local cuisine, it is a stew of black beans with beef and pork. Those who have tried it swore it was worth the long trip.
Christmas celebrations in Brazil extend that holiday feeling by several months, though those who opt to stay in the country don't have to wait long for the next big celebration – the famous Carnival of Rio de Janeiro, which occurs right before Lent, sometime between mid-February and early March.
Greenland
Christmas is one of the biggest holidays on this icy island. Most houses decorate their windows with holiday stars, and put up Christmas trees on the first Sunday of Advent. According to Greenland tradition, Christmas decorations cannot come down until January 6th – also known as the Twelfth Night – which makes for a very colourful and festive holiday season.
While Christmas is a family holiday, New Year's is celebrated akin to the majority of Europe: with parties and fireworks.
Cuba
Because of its Communist regime, Cuba stopped celebrating Christmas after Fidel Castro's rise to power in 1959. In January 1998, Pope John Paul II visited Cuba, and persuaded the Communist leaders to allow observing Christmas. For the first time in almost thirty years Cuba could now celebrate this holiday.
In 1969, December 25th was actually declared to be a regular work day, in order to reach sugar cane harvesting goals. In addition, Christmas-themed (and Nativity) plays were banned. Christmas trees were only set up in hotels for foreign tourists. In Cuba, Christmas is not an official holiday; most recently, the predominant cultural celebrations derive from Afro-Asian cultures.
Churches are open to the faithful, and those willing can attend midnight mass. In general, the Cubans like Christmas; it is the last week of the old year, and the time to prepare greeting the New Year.
There is no Santa Claus on Cuba, and the fir tree is not the official Christmas tree. Sometimes, a pine tree is the stand-in and sometimes, it is a cactus; most frequently, it is the palm trees that are decorated. Decorations also vary, mostly dependent on the family's income, and frequently involve homemade paper toys and garlands.
Madagascar
Christmas traditions in Madagascar are very different from the ones elsewhere in the world, such as the United States, for instance. The main distinction is that nobody puts up Christmas trees, be they fir trees, pines, or anything else. Deforestation is a big ecological problem, and cutting down trees is forbidden. Though pine trees and fir trees can be found at the capital's stores, their numbers are very few.
But Santa Claus is a very popular and recognizable Christmas figure, and a big part of the Madagascar Christmas celebration. Called 'Dadabe Noely' (Christmas grandpa), he wears the familiar red outfit, but is very skinny.
Instead of decorating churches and houses, money is spent on purchasing sweets for the kids and new clothes for the family. But singing carols is a big part of Christmas, and both adults and children participate in the tradition.
Mexico
Christmas is the biggest holiday in Mexico. An important part of the Christmas season celebration is the holiday of Las Posadas, a nine-day religious observance between mid-December and Christmas Eve, devoted to the celebration of the Pilgrimage to Bethlehem of Mary, Joseph, and the baby Jesus.
In the evenings, theatrical reenactment of the pilgrimage takes place on the streets of Mexican cities, with children playing parts of Mary and Joseph, and people dressed as angels and shepherds accompanying them. The procession stops at certain houses, designated as 'inns' ('posada' in Spanish) – one house per night – and Mary and Joseph request shelter until they are allowed inside. At the end of each night, there are piñatas with fruit and candy for the children, Christmas carols, and a feast for all the guests.
As in most countries around the world, Christmas celebrations in Mexico are characterized by festively decorated fir trees, though they are frequently replaced with artificial 'arbolitos.'
The United Kingdom
If celebrating Christmas in Great Britain, please note that it is not customary to give expensive gifts to friends or business associates; instead, a tasteful, original, unpretentious souvenir is more appropriate. Another thing to note is that discounts grow in the days approaching Christmas, but the biggest sales can be seen in the early days of January.
In England or Ireland, it is not customary to celebrate Christmas or New Year's in bars or restaurants; both are intimate, family holidays.
The United States
Christmas in the United States is, perhaps, the most international holiday: the tradition of Christmas Carols came from England, while decorated fir trees are a tradition from Germany.
Santa Claus is mentioned for the first time in the 4th century: Saint Nicholas lived in what is modern-day Turkey, and was known for his kindness and generosity. Rumour has it that after his death, his remains were secretly shipped to Europe, which increased his popularity among the Europeans so much that the Catholic Church named December 6th to be the Day of Saint Nicholas.
In Holland, tales of Saint Nicholas were passed down from generation to generation, until he became Sinterklaas. Dutch travelers introduced Sinterklaas to the New World in the 17th century, and he became Santa Claus in America.
In 1809, the American writer Washington Irving used the character of Santa Claus for the very first time, as the person who brought gifts to children. While Irving's Santa rode a horse to deliver children's gifts, it was Clement Clark Moore who, in 1823, mentioned the reindeer in his poem 'A Visit from St. Nicholas' (most commonly known as 'The Night Before Christmas').
The famous image of Santa as a plump, merry old man in a red jacket was first drawn by Thomas Nast (a German-born American cartoonist and caricaturist) and published in 1863, in the middle of the American Civil War. Despite raging battles, Santa was not forgotten by the soldiers. Nast was also responsible for the creation of Santa's Workshop. It is curious to note that Santa's bag of gifts wasn't added to the painting until the following Christmas.
The tradition of decorating fir tree for Christmas began in Germany sometime in the 16th century, migrated to England, and wound up in America in the late 19th century, thanks to German immigrants. At the time, the trees were decorated with coloured paper, wrapped sweets, and apples, which symbolized the Garden of Eden. The idea of using candles is attributed to Martin Luther, the founder of the Protestant Church, who suggested it to recreate the sight of stars through the tree branches.
It is believed that Santa Claus enters the house through the chimney to deliver children's presents. However, the absence of a chimney (or a fireplace, or a mantel) should not prevent stockings from being hung up (the better to catch presents with). According to the legend, Saint Nicholas was passing a house of an impoverished nobleman, when he noticed the man's daughters' stockings hung out to dry on the mantel. He threw a small pouch of gold coins into the chimney, where it slid straight into the stockings, becoming the girls' dowries.
The evergreen mistletoe has been a winter holiday attribute long before the time of Christ; it was thought to heal wounds and ward off evil spirits. Mistletoe's association with Frigg, the Norse goddess of love, seems to have led to the tradition of kissing underneath the mistletoe.
The fourth Thursday of November is celebrated as Thanksgiving Day in the United States, and it is the start of Christmas sales. The Friday after Thanksgiving Day is known as Black Friday; traditionally, it is the biggest sale day of the year, especially for technology and electronics, and thousands of thousands of people flood the stores (some of which are open on Thanksgiving Day) to purchase Christmas gifts for friends and family.
Christmas in the United States became a federal holiday in 1870. A roasted turkey – or ham – is served at Christmas dinner.
An interesting fact: in the US, the traditional Christmas Day movie is 'It's a Wonderful Life' with James Stewart, which is shown on many a channel throughout the day.
Another interesting fact: in Hawai'i, Santa Claus arrives by boat, not a reindeer-pulled sleigh.
Venezuela
Celebration of Christmas in Venezuela is very similar to celebrations of Christmas elsewhere: some people attend the midnight mass, and people gather together for a festive holiday meal.
But, perhaps, it is only in Venezuela where church-goers arrive at the early morning Christmas Mass on roller skates. This long-standing Caracas tradition brings Christmas cheer to the locals, and streets are blocked off to car traffic to allow for this unconventional commute.
Vietnam
Curiously, despite being one of the main holidays of the Christian faith that celebrates the birth of Jesus Christ, in recent years, the celebration of Christmas has become a cultural tradition for many a Vietnamese. Although a predominantly Buddhist country, Vietnam makes a big deal out of Christmas Eve, with all the usual Christmas traditions: a Christmas tree, streets and houses decorated with strings of lights, and many a Santa Claus, dressed in the familiar red and white, astride a motorcycle, the bag of presents not over their shoulders, but on the back seat.