Why beard oil?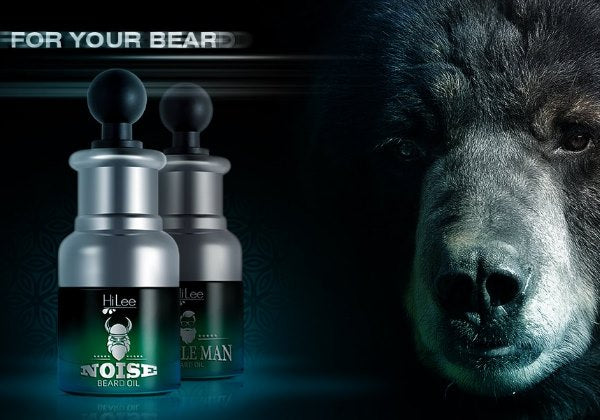 Well! You've grown out a beard! It wholly suits your image and looks modern, fashionable, and perfectly in line with the current mood of ever-changing world trends.
The next logical question should be: how does one care for the beard at home? Are special products necessary? This is especially important for 'misbehaving' beards. Worry not: the answer to most questions (and hair troubles) is beard oil. This substance helps style beard hair and stimulates hair growth. In addition, if used properly, the oil also nourishes the skin.
Type of beard oil matters:
There are probably some recipes out there online, recommending a blend of household oils which, when mixed, will create an oil-like substance. The question is what kind of substance, exactly, it might result in. Oils that are found in pharmacies – castor, almond, and others – are structurally heavy. When mixed, they might not dissolve each other completely. They work well for a skin massage, but will leave greasy residue on beard hair, and a too-small amount might not create the desired effect. Additionally, the combined scent of such a blend might range from so-so to unpleasant. Beard hair needs a more delicate touch and lighter-weight formula. Inexpensive oils made from subpar ingredients might also lead to undesirable consequences, ranging from greasy clothing stains to allergies.
Unlike pharmacy cosmetic and essential oils, ready-made specially-developed beard oils have a balanced formula. This oil is readily absorbed by hair, yet is easily washed off. The effect, expected by either a beard veteran or a novice aficionado of a beard style is easily achieved. Professional beard oil can be either unscented, lightly scented, or have brightly-expressed notes. HiLée brand beard oil, made from natural and organic oils, is unscented, to retain the highest efficacy of its components.
Universal beard helper
Expert bearded men use a multitude of beard care products, all of which help stimulate hair growth, nourish the beard, and make styling and care more manageable. Beard oil is the universal aide, whether purchased from HiLée or any other company known for its quality beard care products.
Beard oil is a helpful and valuable beard care product. It softens beard hair, which helps it grow faster and makes the beard thicker. Beard oil also nourishes the skin, protecting it from environmental damage, and reducing itch and irritation.
Using beard oil is full of advantages! It can be used daily, and a little bottle goes a really long way. When made from 100% natural ingredients, it will be incredibly beneficial to beard hair and facial skin.
How to choose beard oil?
This choice is mostly subjective and varies greatly depending on a person's taste. Ingredients matter; so do perfume additives (whether the oil is scented or not). Even if the product is all-natural, it might contain an ingredient you might be sensitive to, so check the label. Reviews matter, as well; a well-advertised product might be the perfect choice for 99% of its users, except for 'that' one. And, aesthetically speaking, packaging matters, too: a product that will be used daily needs to come in an easy-to-handle container.
Our HiLée brand online store offers two types of beard oil – NOISE and GENTLEMANboth formulated with 100% natural and organic ingredients, and both unscented.
NOISE is a universal beard oil, suitable for expert beardies and novices alike. GENTLEMAN is best suited for men with coarse hair.
For fans of perfumed products, we suggest checking out beard cologne. Our online store offers 4 varieties of beard cologne : Lord, Hunt, Tease, and Gentleman. To create perfumed beard oil, add a few drops of beard oil to your palm, then add cologne. Our colognes are made with 100% alcohol, without any toxic additives, and are absolutely harmless.
Beard oil ritual
Using beard oil is very easy and should be part of daily beard care routine. Beard oil should be applied to a clean, dry beard, by combing fingers through beard hair. This ensures even distribution of oil into hair and skin. After application, the beard should be smoothed down and combed. Just a couple of drops of oil are sufficient to provide proper beard maintenance. Keep in mind that the oil with gives the beard a light, natural shine. For those wishing for a non-glossy beard, use the beard oil at night, and try other beard products in the mornings, such as beard balm or mustache wax.