Men's Skin Types and Treatment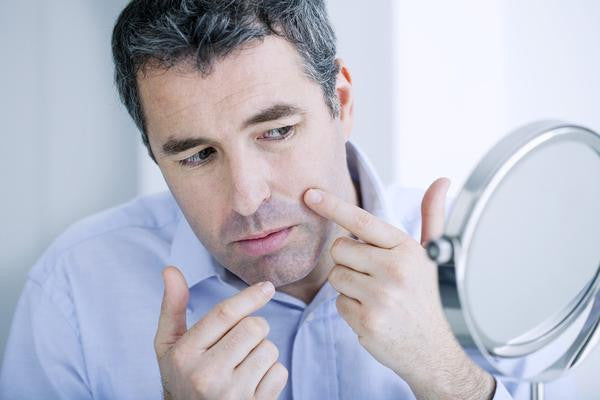 About a decade ago, most men believed that facial cream was exclusively for women. Shaving cream, deodorant, shampoo – this was usually the limit of men's cosmetic items. Today, cosmetics are regarded more favorably, but for some reason, only a small number of men find time to use them. According to surveys, a third of young and middle-aged men regularly use cosmetic products (in particular, moisturizing products), but these products are borrowed from their girlfriends and wives.
At the same time, cosmetic manufacturers produce entire product lines for men. This separation is based on the fact that men's skin is quite different from women's. Therefore, not only the scent, but also the composition of men's skincare products differs from the women's. Consequently, it is better for a man not to borrow his partner's cream, but rather to purchase his own. And its use should be regular, rather than only after a lengthy encounter of one's face with the wind. What cosmetics does a man need in order to preserve his facial skin? Let's see what the minimal set recommended by cosmetics experts is:
Cosmetics for men. The necessary set:
Cleansing toiletries. Daily washing using soap is not necessarily the correct method for cleansing the skin. Special cleansing gel for the skin or hydrophilic cleansing & softening oil will be much more effective.
Shaving devices. Lately, many men have encountered issues of skin sensitivity and a tendency to irritation. Experts believe that this is the result of environmental pollution and situations of constant stress. Special types of shaving foams and shaving gels intended for men with sensitive skin can provide a solution.
A skincare product. After shaving, the skincare product should be applied to the skin. A simple soothing moisturizer may be used (face milk, moisturizing balms or gels) or, alternatively, men's cream intended to solve a particular problem may be applied (for example, dryness or changes due to age). HiLee recommends "Lifting serum" from the men's anti-aging series. Like women, the skin around men's eyes tends to be especially prone to dehydration and early aging. Therefore, cosmetics experts recommend that starting at age 25, men should begin using products to treat skin around the eyes. Our recommendation:
EYE CONTOUR CREAM FOR MEN by HiLée
For those who have passed age 40, anti-aging products will be suitable. Due to a high concentration of collagen and testosterone, men's skin maintains a firm appearance for much longer than women's, and signs of aging are found much later. However, starting from age 40, it is worthwhile for men to purchase and use anti-aging creams.
Men's skin is firmer than women's due to a larger amount of collage and elastin. Therefore, wrinkles appear much later among most men than in women. Testosterone in men's skin better protects it from harmful environmental factors. Shaving helps remove dead cells form the skin. Ostensibly, the use of any kind of beauty products for men is unnecessary.
However, reality is different. Indeed, the wrinkles appear later, but they are deeper and more prominent. Excess testosterone causes increased secretion of sebum from the sebaceous glands, resulting in inflammation, and frequent shaving causes dryness and peeling of the skin. All these irritating occurrences can be eliminated or, at least, minimized by using skin care products for men.
Men's skin types
Oily skin – excess secretion from the sebaceous glands, acne, "oily" shine, "black spots." This is the most common skin type among men over age 40.
Dry skin – usually appears among men over age 40. Dryness and sensation of tension in the skin after shaving, peeling and itching of the facial skin.
Normal skin – Inflammatory processes are less common, no dryness or peeling, smooth and healthy appearance of facial skin.
Combination skin – the nose, forehead, and chin are normally shiny, whereas the cheeks are soft, and there is a sensation of dryness and tension around the eyes.
In fact, skin care is not complicated at all. Adhering to a simple formula is enough: cleanliness and moisture, with products that suit the skin type.
By observing simple rules of care, you will be able to maintain healthy and youthful skin.
Remember the eternal rule: Women prefer men with nurtured and healthy skin.